About Casuarina Curry
Roti Prata, a 'pancake bread' possibly originating from Pakistani or Indian paratha, is made from simple ingredients of flour, sugar and salt. Water is added to the flour to form a dough. The dough is then kneaded to make it soft and pliable. The dough is then flattened and flipped and swirled and twirled into a large thin layer before heating it on a hot plate.
Traditionally, pratas can be eaten with curry, sugar, condensed milk or just plain. This has evolved to include flavours as varied as garlic, banana, chocolate, durian and cheese. More recently, the dish has also evolved to other sweeter and crispier variants such as "tissue" and "paper" which are pan-fried with butter, rolled into a cone shape and sprinkled with sugar.
From the 80s to the early 90s, the more discerning in Singapore would invariably congregate in Jalan Kayu, considered by many to be the mecca of prata-lovers. Today, Casuarina Road (off Upper Thomson Road) is just as well known and possibly even more popular. This is partly due to popular prata joints like Casuarina Curry Restaurant which was started there in 1992. In fact, Casuarina Curry Restaurant is a 2nd Generation Indian curry and prata restaurant with roots in Jalan Kayu.
With the support from our customers, we have won numerous adwards and accolades and are rated as one of the best in Singapore; our more than 40 varieties of prata will delight and pamper our diner's taste buds. From our humble beginning, we are constantly seeking to innovate and improve and now offer a full repertoire of popular Indian curry dishes in our restaurants as well as catering service for events in your offices or homes. In fact, we are the first in Singapore to offer Prata On The Spot, a catering service to make prata on your doorstep!
Awards & Certifications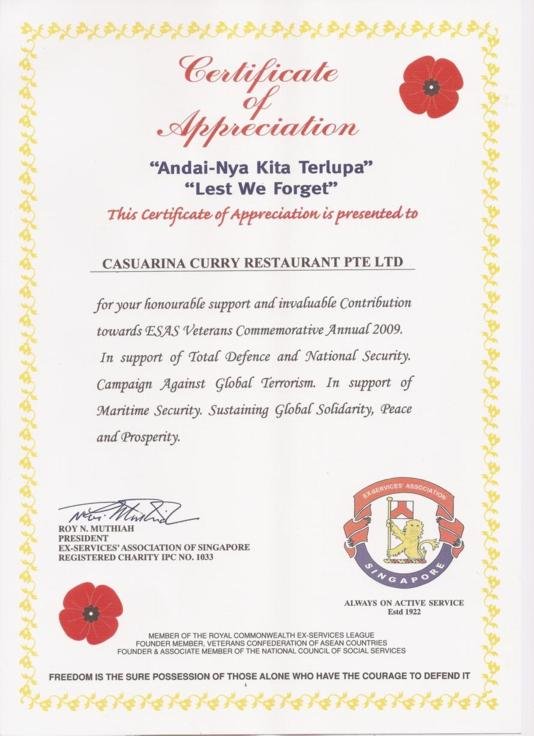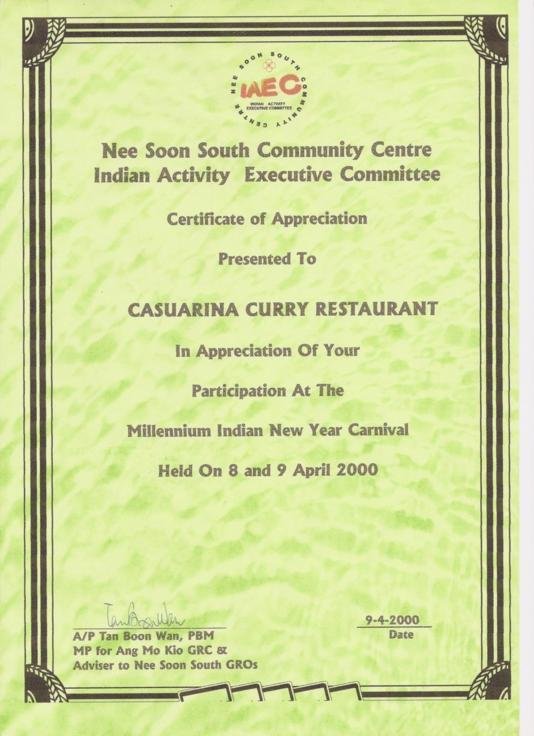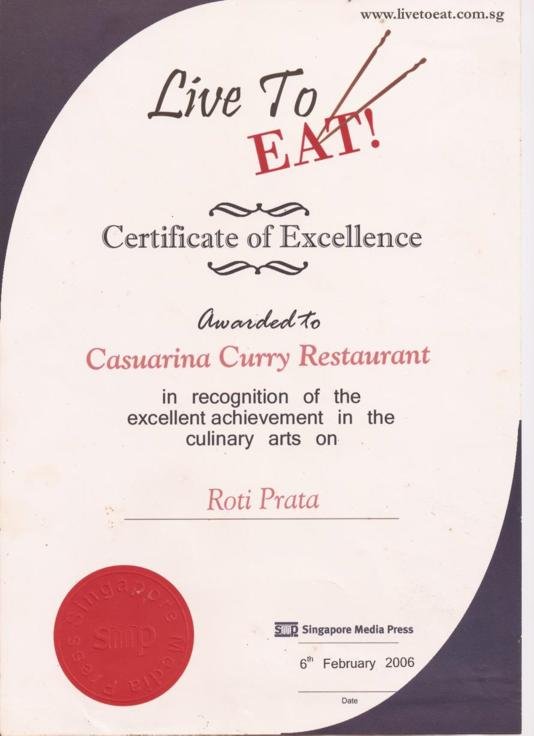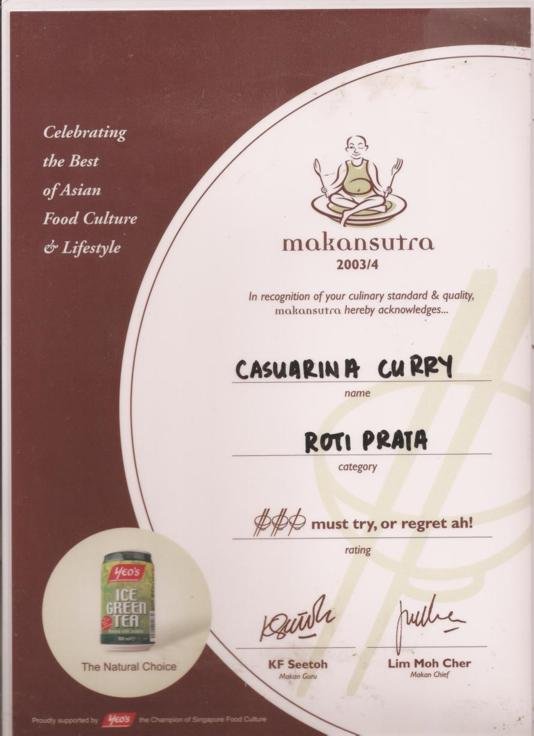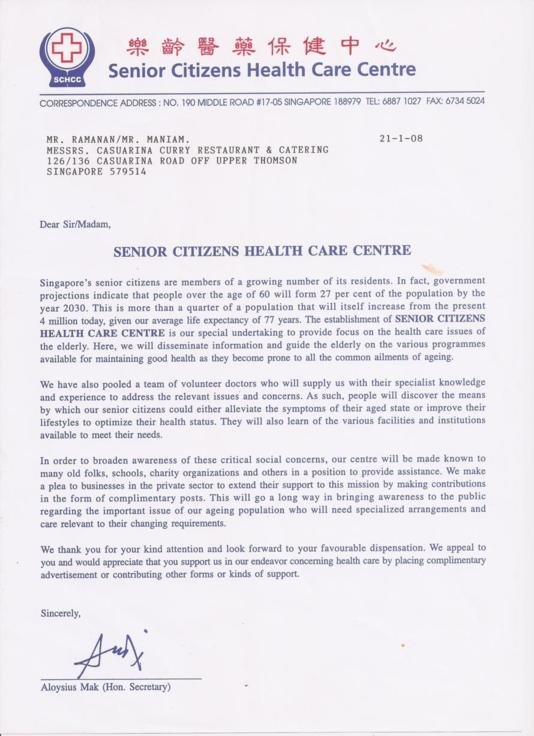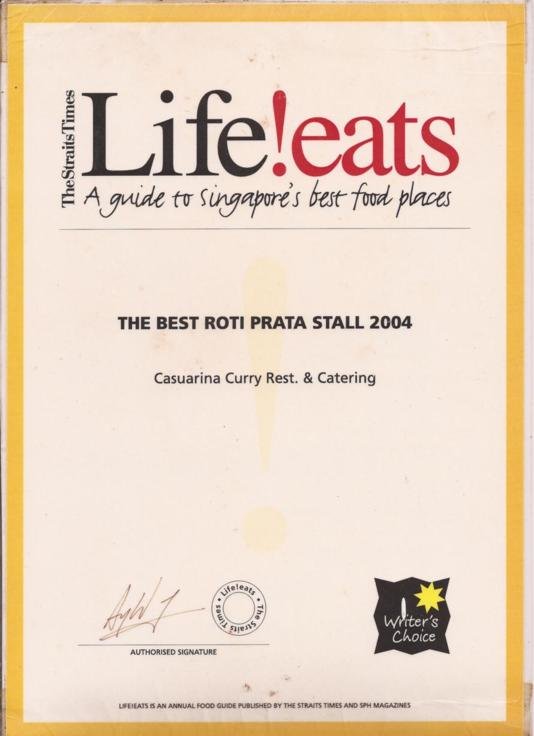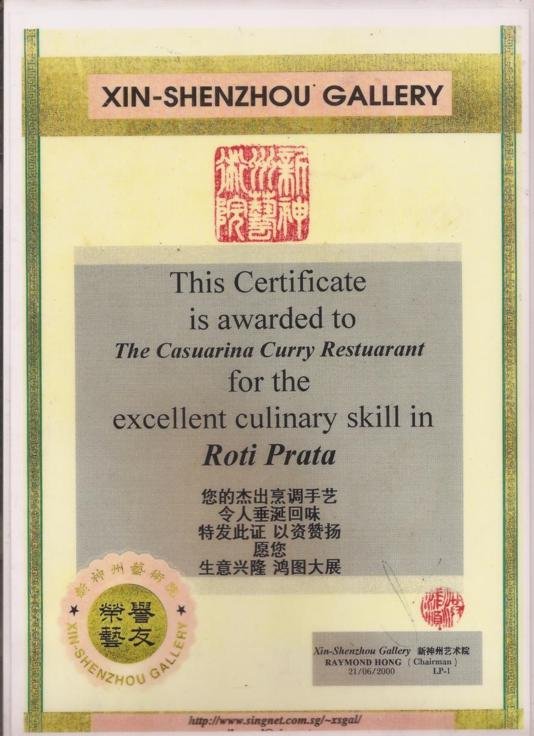 Some of Our Signature Dishes